Hey, I'm a self-professed SJW and recently I've just been shouting at my friends a lot. I'm wondering if the Pink Fairy can help me make things up to my conservative and … err … "centrist" friends by cursing me to be a big-dicked, muscle-bottom who gets silly and horny around conservative guys until he needs them to anger-fuck his huge, bouncy, pinko commie ass.

To balance it out… Maybe some of their right-wing views can dribble out onto the floor?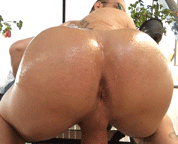 You wake up with a lancing pain throbbing between your eyes. You feel like shit. Your head feels like it's stuffed with cotton. You're sprawled out on the couch, wearing practically nothing. Practically. The only thing that you have on you is a leather collar and leather cuffs locked around your wrists and ankles.
You sit up in horror when you realize where you are. The home of one of your more conservative friends. He comes down the hall with a sneer and smirks at you. "Well, well, well," he says, "looks like the fag's finally come around." He walks around to where you're sitting up on the couch. "Off the furniture, fucker," he says, and as much as you want to fight, as much as you want to rebel against this abuse, his humiliating words, his degrading language, it makes your cock harder than it's ever been and you find yourself obeying.
"Kneel," he says, as he sits down on the couch with his legs spread apart. He reaches up to his waist and unbuttons his pants, shucking them down his legs. He pulls his cock out and you feel yourself salivate, your ass shaking with desire as your hole twitches."Did you really think you could scream at us like that with no consequences? Did you think you could insult us behind our backs on those online forums of yours without us finding out? Well, you were fucking wrong."
"Now suck," he says. This is wrong. So wrong. Or at least you think it is. Thoughts are hard. You're hard. You're horny. You want his cock. Your brain feels like it's been wrung out, your smarts all squeezed out. "What, fag? How about you stop eye-fucking my cock and suck it?"
You moan, any resistance that you have left getting wiped out by his tone, by how humiliated you feel, by how much that makes you aroused. You realize that you're destroying your reputation as an SJW, but you're too far gone to care. "We should have known," he says. "Can't believe we used to be so afraid of you because you were so big."
He grins. "Who'd have thought that the moment we took our cocks out you'd totally fag out? God, do you not have dignity?" His words only make you slurp and suckle on his cock even more. He slaps you across the face and spits on you before taking a photo. "Smile for the camera, fag. We're going to make sure all your SJW friends know exactly what you are."
He smirks as the door opens. You briefly stop sucking his cock to find another of your more conservative friends. He walks into the room naked, cock hard. "Social. Justice. Whore," says the guy you're sucking off as you return to his cock. And you can't help but moan, cum dribbling out of your cock at the sheer humiliation of it all.
He grunts as he pumps a load into you and smirks as you slobber all over his fuckpole trying to milk every last drop of cum out of it. "You know," he says, "maybe there's something to this fag rights thing that you keep talking about. I bet happy fags are much better at sucking dick than miserable ones."